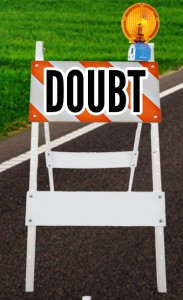 Inexperience and ignorance kept me in a bubble for the first two decades of my Christian walk. After I accepted Jesus Christ as my Savior and invited Him into my heart at the age of eighteen, I lived a good Christian life, doing all the right things. I began a Bible study in the book of John. I continued to attend my childhood church, where I was involved in a young adult group. I prayed and read my Bible regularly. I listened to Christian music and read inspirational books. I tried not to sin too often, but when I did, I asked God's forgiveness as soon as I felt convicted.
Over the years, I heard other believers, like pastors, talk about hearing God's voice, but I never considered that God would speak to me. Often, I heard Christ followers say that their faith was more of a relationship than a religion. I thought that praying to God and reading His Word meant I had a relationship with Him. However, I never left room in my prayers—conversations with God—for Him to speak His mind. I never even attempted to listen to His voice, because I didn't believe He would speak to me. I occasionally sensed God speaking to me through Scripture but never even dreamed He would speak to me in my thoughts. Sound familiar? Can you relate to any part of this story?
Looking back, I see that I fit the description of the lukewarm Christian. I wasn't cold toward God, but I wasn't on fire for Him either. I enjoyed a "normal" life, which resembled the lives of many other Christians I knew. And after twenty years of this blissful monotony, I wondered if this was all there was to life. If so, I wasn't sure I wanted to go on living.
While I was in counseling for clinical depression, my psychologist shared his recent boost in his walk with the Lord. He had learned how to listen to God's voice. I could see the new passion and excitement he had for Jesus. It sparked my interest in knowing Jesus more intimately. My counselor encouraged me to spend time alone with God: to talk to God and then listen to Him, writing down what I heard Him say. Unfamiliar with this practice, I made many attempts over many weeks before I realized success. 7 Simple Steps to Hearing God's Voice. The first book in the Hearing God's Voice Series, walks you through my process of learning how to hear and recognize when God speaks.
I soon realized that the obstacle of doubt had prevented me from hearing God's voice for all those years. My skepticism profoundly contributed to my deafness toward God's voice. Actually, it kept me from attempting to listen to God at all. I lacked faith that God would speak to me; therefore, I heard nothing.
Hebrews 11:1 says, "Now faith is being sure of what we hope for and certain of what we do not see." We might add to that: It's being certain of what we do not hear. To hear God's voice, we must be certain we will hear it! Do a faith check. Examine your own heart and mind. Do you believe that God will speak to you? Do you understand that God speaks to you through His Holy Spirit, Who lives in you? You can believe it, because Jesus said it in John 16:13-15:
"But when He, the Spirit of truth, comes, He will guide you into all truth. He will not speak on His own; He will speak only what He hears, and He will tell you what is yet to come. He will bring glory to Me by taking from what is Mine and making it known to you. All that belongs to the Father is Mine. That is why I said the Spirit will take from what is Mine and make it known to you." (Emphasis mine)
Not understanding the role of the Holy Spirit kept me from leaving room in my prayer time for God to speak. I prayed, but I didn't stop talking long enough to listen. I didn't believe I would hear God speak to me because I didn't understand that He spoke through the Holy Spirit. But when I started delving into Scripture and reading inspirational books about the Holy Spirit, my appreciation grew for all that He does for me. A more thorough knowledge of the third person in the Holy Trinity afforded me a better understanding, which led to an increased trust that enabled me to hear His verbal communications in my thoughts.
I could relate to Peter with my doubt. Remember the story of Jesus walking on the water from Matthew 14:22-33? Jesus made the disciples get into the boat and go ahead of Him to the other side of the lake. Then He went into the hills alone to pray. When evening came and He returned from the hills, the boat was already in the middle of the lake. So He walked on the lake's surface toward the boat. The disciples were terrified, thinking Jesus was a ghost. But Jesus said to them, "Take courage! It is I. Don't be afraid."
"Lord, if it's you," Peter replied, "tell me to come to you on the water."
"Come," He said.
Peter stepped out of the boat and walked on the water to Jesus. But when he saw the wind, he began to sink in fear, crying out, "Lord, save me!"
Jesus reached out His hand and caught Peter. He asked Peter, "You of little faith, why did you doubt?"
Notice that Peter did walk on the water. He trusted Jesus enough to get out of the boat, but when the wind came up, his faith took a downward turn. He lost his confidence in Christ and doubted His power to keep him on top of the water. Peter's doubt put constraints on what Jesus would do for him. This lesson teaches us to be certain that God gives us the power to do what He calls us to do. Jesus would not have called Peter out of the boat to let him drown in the lake. Rather, He invited Peter to believe in His ability to empower him to do the impossible.
Similarly, when I doubted that God would speak to me, I put constraints on what God would do for me. My doubt put up a roadblock between God and me. Uncertainty erected an obstruction in my two-way communication with the Lord. Notice I didn't say that my doubt limited what God could do. More precisely, my hesitation hindered my own ability to hear my heavenly Father. It wasn't until I entertained the possibility that God would speak to me that the ears of my heart were opened to hear His voice.
Also observe that Jesus reached out His hand to His friend when Peter's doubt sprang up. Jesus does not let us perish in our lack of faith and trust. He continues to pursue us and use our trials to 1) make us more dependent on Him, 2) bring us closer to Him, 3) increase our trust in His power, and 4) mature us in our faith. He holds our hand until our trust in His power catches up.
Hebrews 3:7-12 offers a warning against unbelief:
So, as the Holy Spirit says: "Today, if you hear His voice, do not harden your hearts as you did in the rebellion, during the time of testing in the desert, where your fathers tested and tried Me and for forty years saw what I did. That is why I was angry with that generation, and I said, 'Their hearts are always going astray, and they have not known My ways.' So I declared on oath in My anger, 'They shall never enter My rest.'"
See to it, brothers, that none of you has a sinful, unbelieving heart that turns away from the living God.
As it did with Peter, doubt causes us to lose our footing as believers and sink in our lack of faith in Jesus. It makes us dependent on ourselves, not trusting in the power of God in us. We must remember that we have the Spirit of the living, Almighty God dwelling in us. He gives us the faith to believe and empowers us to do all that He prepares and plans for us to do. Romans 8:11 says, "And if the Spirit of Him who raised Jesus from the dead is living in you, He who raised Christ from the dead will also give life to your mortal bodies through His Spirit, Who lives in you." We have the same strength, ability, and authority residing in us that raised Jesus Christ from the dead. Pretty amazing, right? All we have to do is recognize that fact, own it, and call on that power of God in us. Praise the Lord that He sent a member of the Holy Trinity to enable us to accomplish all that He has prepared in advance for us to achieve!
We must ask ourselves, what causes the doubt in the first place? One answer to that question is: Satan speaks to our hearts with lies and stirs our spirits to question God's power and our own abilities.
Doubt is the enemy of belief in the truth, as James 1:5-8 says:
If any of you lacks wisdom, he should ask God, Who gives generously to all without finding fault, and it will be given to him. But when he asks, he must believe and not doubt, because he who doubts is like a wave of the sea, blown and tossed by the wind. That man should not think He will receive anything from the Lord; he is a double-minded man, unstable in all he does.
When we doubt God's promises, power, and abilities, we give a whole lot of undeserved power to the devil, who sows the seed of skepticism in our minds. In each chapter of the 7 Roadblocks book,  I examine three lies that Satan instills in our minds with regard to each encumbrance. Of course, these lies are not the only falsehoods he implants. They represent a sampling to get you thinking about the possible causes of your misgivings. Then, following Jesus' example of battling Satan with God's Word when the devil tempted Him in the desert, I dispel each lie with the truth from Scripture.
As long as we accept, believe, and/or invest in Satan's lies, he is happy because we remain in bondage to him. To break free from the strongholds of the devil, we must recognize the lies and overcome them with the truth of God's Word. When you find your mind bombarded with the fabricated claims of the father of lies, replace the devil's deceit with the indisputable truth of Scripture. Wash away the dishonest dirt. Rehearse and repeat the truths of Scripture.
Some falsehoods swirling around in our heads evolve from the idea that God does not still speak to His people today, except to a select few spiritually mature figures, and if we do hear God speak, we can't be sure it's actually His voice. Are these lies feeding your doubt? Get your copy of 7 Roadblocks to Hearing God Speak, and start identifying and eliminating any falsehoods you may be unknowingly investing in.