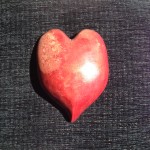 Lord, you woke me to these lyrics from Matt Redman's song Your Grace Finds Me:
"So I'm breathing in Your grace. And I'm breathing out Your praise. I'm breathing in Your grace. Forever I'll be Breathing in Your grace."
John 20:22 says–Again Jesus said, "Peace be with you! As the Father has sent me, I am sending you." And with that he breathed on them and said, "Receive the Holy Spirit."
My sweet child, when you confessed your belief in me, you received my grace. I breathed on you and you received my Holy Spirit into your heart. My peace remains in you just as my Spirit remains in you at all times. Forever, you will breathe in my grace and peace.
Do you know how much I love you? Do you understand how deeply I care about you? I knew you before I formed you. I breathed the breath of life into your lungs. You are alive because I wanted you and created you. And now I make my home in you.
You live because I live. Your heart is alive, because I am alive in you. Do not forget that I am alive. You do not worship a god made of stone. Every breath you take is because of my grace. Every day is a gift from me. Breathe in my grace and breathe out my praise. Be a witness to my goodness every time you take a breath. Breathe in my grace and breathe out my praise before a watching world.