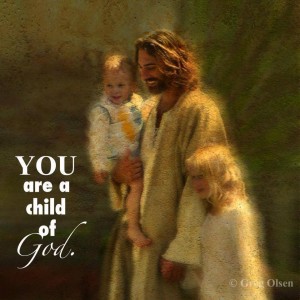 So do not fear, for I am with you; do not be dismayed, for I am your God. I will strengthen you and help you; I will uphold you with my righteous right hand…For I am the Lord, your God, who takes hold of your right hand and says to you, Do not fear; I will help you. (Isaiah 41:10 & 13)
Lord, you woke me this morning with these words from the Shoulders song by For King and Country, playing in my mind: "I will feel no fear. I know that You are near."
Lord, what do you want me to know about this?
My darling child, I want you to know that I love you and I am with you. I am always near whenever you are afraid. I will strengthen you. I will take hold of your hand and lead you out of your fear. There is no fear when you know you are loved by me. I will protect you and take care of you. Be afraid of nothing, for I have redeemed you and called you by name; you are mine. Nothing will overtake you; nothing will harm you. You are my child, whom I love dearly. Be strong and do not fear the days ahead. I am in control. I have your best interests in mind. Trust me with your whole heart. I will help you and take care of you. I hold you close to my heart. I love you more than you know.
Artwork Credit: Be Not Afraid © Greg Olsen. Used with Permission. For more information visit, www.GregOlsen.com
For King & Country – Shoulders Lyrics
Artist: For King & Country Album: Run Wild. Live Free. Love Strong.
When confusion's my companion
And despair holds me for ransom
I will feel no fear
I know that You are near
When I'm caught deep in the valley
With chaos for my company
I'll find my comfort here
'Cause I know that You are near
[Chorus:]
My help comes from You
You're right here, pulling me through
You carry my weakness, my sickness, my brokenness
all on Your shoulders
Your shoulders
My help comes from You
You are my rest, my rescue
I don't have to see to believe that
You're lifting me up on Your shoulders
Your shoulders
You mend what once was shattered
And You turn my tears to laughter
Your forgiveness is my fortress
Oh Your mercy is relentless
[Chorus]
My help is from You
Don't have to see it to believe it
My help is from you
Don't have to see it, 'cause I know, 'cause I know it's true
[Chorus]
My help is from You
Don't have to see it to believe it
My help is from you
Don't have to see it, 'cause I know, 'cause I know it's true
Read more at http://www.songlyrics.com/for-king-country/shoulders-lyrics/#XzHBam3OEqkKc2gG.99