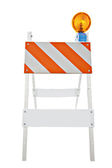 It's my prayer today, that if you've been following my blog for the past couple months, and applying the 7 Simple Steps to Hearing God's Voice, you will be well on your way to hearing and recognizing the voice of God within you. However, if you've been regularly putting in the time and effort to listen to God, and not yet heard from Him, you may be wondering, Why? I am eager to share with you seven things I discovered that kept me from hearing God speak.
Before you think, But God won't speak to me because… (Fill in the blank yourself), let me tell you, it's really very simple. If you have accepted Jesus Christ as your Savior and invited Him into your heart to be your Lord, then God does speak to you. However, something may be deafening your ears to His voice.
In this blog, over the next couple months, I will introduce seven roadblocks that may stand in your way of hearing God speak. As you read on, see if any of these barriers might be keeping you from enjoying two-way conversation and intimate relationship with Jesus.
After twenty years of following Christ and yet struggling with clinical depression, I was ready to throw in the towel. I could only hope there was more to life than what I'd experienced. I heard believers talk about a relationship with Jesus. I thought I had one. I talked to God, but unfairly, I didn't leave room in the conversation for God to speak to me. I didn't believe He would speak to me. Doubt was one of the roadblocks standing in my way of hearing God's voice. I didn't consider that the big God of the universe would speak to little ole me.
I couldn't have been more wrong. About fifteen years ago, it all changed for me. One night, while talking to God, I actually made time to listen. I heard a voice in my thoughts that I knew was not my own. It was God! He spoke to me, an average girl. Now I know ordinary people hear from God, too.
You may wonder, Why doesn't God speak to me? What am I doing wrong? How do I go about hearing His voice? I wrestled with these same uncertainties. In my quest for answers, God blessed me far beyond my heart's desire. My relationship with the Lord grew stronger and deeper as I learned how to enjoy two-way communication with Him.
Does your relationship with Jesus lack the WOW factor? Mine did. But hearing God's voice added an amazing new dimension to my faith adventure. Whenever we listen to God's voice within us, we achieve a greater intimacy with the Lord. Hearing God's voice is one of the keys to a deeper connection with Jesus Christ. It's absolutely life-changing and life-giving!
Your search for deeper intimacy with God is about to yield results. After regularly hearing God speak for the last fifteen years, I nailed down 7 Roadblocks to Hearing God Speak. Practicing any or all of the behaviors identified here may cause you to feel that the all-powerful God will not speak to you because you are not worthy or qualified to hear Him.
Truly, despite your flaws and feelings of inadequacy, God continues to pursue you passionately. He doesn't wait until you are perfect and sin-free to speak to you. The Holy Spirit of God communicates with you all day, every day, in many different ways. He's anxiously waiting for you to listen and recognize His voice!
As a Christian, you have the living God dwelling inside you, so why wouldn't you be able to hear His voice? Well, these seven things may stand in the way: doubt, fear, pride, worry, busyness, disobedience, and an unwillingness to forgive. To be clear, these behaviors won't necessarily keep God from speaking to you, but they may keep you from hearing Him. The indwelling Holy Spirit helps you become more Christ-like, so you have to be able to hear and recognize God's voice within you to utilize the promptings and assistance the Holy Spirit offers you in the journey of sanctification.
Over the next several weeks, this blog will help you identify seven barriers that may cause deafness to God's voice. Learn how to crush these deterrents and strengthen your relationship with the Lord. Achieve amazing results when you clear the path to listening to God. Truly, it's worth your time and effort. In fact, it's vital to experiencing the abundant life Jesus Christ came to give you!
All this information and more can be found in my book, 7 Roadblocks to Hearing God Speak: Removing the Barriers Between You and God. It's available from Amazon.com in Audio Book, Kindle, and Paperback.