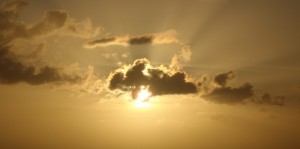 God, thank you for creating me,
The heavens, earth, and deep blue sea.
Lord, thank you for the sun above.
Thank you for your endless love.
I'm grateful for your perfect peace,
And provision for my sin release.
Thank you for my Savior's birth.
For sending Jesus to the earth,
To pay the debt for all my sin,
And give me new life to begin.
The old has gone, the new is here.
His perfect love casts out my fear.
Lord, thank you for the Holy Spirit
Who speaks to me so I can hear it.
Who tells me of your love for me
And convicts me of iniquity.
He counsels me, He is my guide.
Through trials He walks close beside.
Amazing God, the Three-in-One,
The Father, Spirit, and the Son,
I give you the glory you are due
You are the One God who is true.
My heart belongs to you alone.
My body is your earthly home.
You heal my hurts, you restore my soul.
You rebuild me, and you make me whole.
You turn my sorrows into laughter,
And give me new life ever after.
I'm sealed for your redemption day.
When you return and take me away.
Until that day, I'll walk with you,
Read your Word, and obey it too.
I'll listen to your voice within,
And try to live life without sin.
I'll follow where you choose to lead.
You are my God and Lord indeed.
I love you, Lord, with all my soul.
My life I give you, take control.
Do with me what you have planned.
I submit to you and take your hand.
Lead me down paths that are straight,
And use me for the work you create.