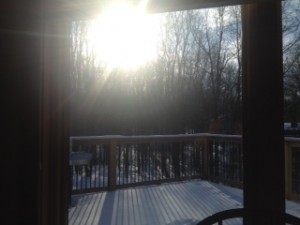 As the weather starts turning cold again, I am reminded that He warms our souls from within.
Good morning, Lord
Today the bitter cold is the first thing on my mind. It is -7 degrees here and the sun is making its ascent. What's it like where you are?
Funny girl, you know it's heavenly where I am. There is no need for the sun here. My brilliance illuminates everything. A crystal clear river of living water flows through the streets made of pure gold. The pearly gates remain open at all times. There is no temple, for I and the Lamb are its temple. There are no tears, or mourning, or death. Only joy and laughter fill the air. I have prepared a place for you. You will spend eternity here with me. When you ponder the confines of earth, dream of this place I have described for you. This is your eternal home. My radiance will bring warmth to your heart. Do not forget, I am with you, even now. It may be cold outside where you are, but my Spirit warms your soul within. Delight in the coziness of a close relationship with me. Soon the ice and cold will melt away, and only the warmth of the Son will remain. Pour a cup of hot coffee, and enjoy a conversation with Me. I'll be waiting for you.