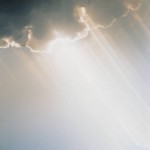 But you are a chosen people, a royal priesthood, a holy nation, a people belonging to God, that you may declare the praises of him who called you out of darkness into his wonderful light. (1 Peter 2:9)
My precious children, I have chosen you. You belong to me. I have made you holy and righteous through my death and resurrection. No longer are you sons and daughters of the darkness. I have called you into my wonderful light. Declare your praises to me. You are mine.
Rid yourselves of all evil and abstain from immorality. Live good lives to glorify me. Those that remain in darkness may still accuse you of doing wrong. However, you have chosen a better path. This road leads to everlasting life.
Live life according to the Spirit, rather than the flesh. Like a newborn craves milk, yearn for spiritual milk, that will satisfy your longings and help you grow up in the Lord. You have now tasted that the Lord is good. Only I can satisfy your thirst.
Fill your souls with spiritual wisdom by feasting on my Word. Keep it in your heart and mind that you may recall it and use it as your weapon of choice. When your adversary temps you and lies to you, draw the sword of the Spirit, which is my Word. As you now walk in the light, the darkness will not overcome you. I have already defeated your enemy. Stand victoriously in my triumph.
You are my precious children. Do you know how much I love you? Can you grasp how wide and long and high and deep my love is for you? I loved you to the grave and back. I gave my life to pay for your sin. Now you are a child of the King, you belong to God. Live into the light and leave the darkness behind.