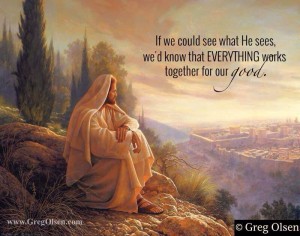 Psalm 121
I lift up my eyes to the hills—where does my help come from? My help comes from the Lord, the Maker of heaven and earth. He will not let your foot slip—he who watches over you will not slumber; indeed, he who watches over Israel will neither slumber nor sleep. The Lord watches over you—the Lord is your shade at your right hand; the sun will not harm you by day, nor the moon by night. The Lord will keep you from all harm—he will watch over your life; the Lord will watch over your coming and going both now and forevermore.
O Jerusalem © Greg Olsen. Used with Permission. For more information visit, www.GregOlsen.com 
My precious one, I am here to protect you from harm. I watch over you day and night. I do not slumber nor sleep. My eyes are on you every moment of every day. Not only do I see your every move, but I am present with you always. I am your Maker and your Helper. Find your strength in me. Receive your help from me. Turn to me in all things, at all times. I will turn your sorrow into joy, your mourning into dancing, your trial into triumph. I am in control, and I want the best for you. Come to me; cast all your burdens upon me, and I will give you rest. I am the Alpha and Omega, the beginning and the end. I make all things new. Let me transform your life and set you on the path to the destiny I have planned for you. I will work all things together for your good and mine. Put your trust in me; I will not let you down. Put your hope in my unfailing love. You are very precious to me. I love you beyond your comprehension.