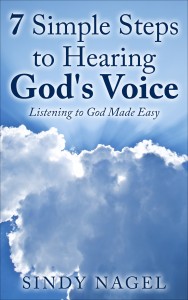 Order yours today! – Click here.
Watch the Book Trailer – Click here.
This is absolutely the most wonderful book I have ever read, as Sindy skillfully and articulately describes how she learned the art of listening to God! With insight and wisdom, she instructs and encourages us to enter into that deeper relationship with Jesus Christ.—Ellen Neal, Director of Prayer and Inner Healing Prayer Ministries, Centerpoint Church, Kalamazoo, Michigan
Sindy's book is very encouraging! She not only reminds us that we can hear God's voice, Sindy also shares the listening techniques that can help us develop a more intimate relationship with the Lord. In her personal journal entries, she demonstrates her open heart and her transparency with God.—Carol D.
The many Bible verses that back up Sindy's words are very good. I particularly enjoyed how she reveals personal and private aspects of her story and describes the "how to" of listening to God.—Sue F.
Sindy Nagel's book will be a revelation of truth to many people, even many Christians!  God, through His Holy Spirit, really does speak to us and desires a relationship through dialogue. Sindy's book explains in a straightforward way how to embark on the most magnificent human adventure—conversing with our God and Creator.—Craig Witcher, owner of Manna Café in Grand Rapids, Michigan, and founder of Manna Ministries Worldwide.
To honor and glorify the Father, Son and Holy Spirit; I do believe, I am listening, and I will obey. I'm an ordinary girl, listening to the Holy Spirit within me!—Anne K.
So many times when God spoke through Sindy in the book, it was as if He was speaking directly to me! I've been blessed.—Kathy H.
Is it possible God would speak to me? I had accepted Jesus as my Lord and Savior over thirty years ago but did nothing to learn His Word in the Bible. Reading Sindy's book affirmed that it was God's words I had heard. He loves me and desires that I spend time with Him in two-way conversation.  He eagerly listens and will respond in a multitude of ways. If you like "How To" books, you'll love this one. Sindy describes how to converse with God and experience a closer relationship with Him. Thank you, Sindy.—Annette W.
As Sindy shares her personal experiences and biblical insights you will learn the discipline and art of turning a listening ear toward the heart of God and you will make a delightful discovery; God is longing to speak intimate, loving, and extraordinary things to YOU! As you learn to respond in two-way conversation with the Holy Spirit, your life will be forever changed.—Bethany C.
Sindy's book and Bible study have been life changing for me. As a new Christian, it has given me brand new insight as to the relationship I can have with my heavenly Father. I immensely appreciated Sindy's willingness to be honest and open about her journey as she learned to listen to God.—Kelly L.
I appreciated Sindy's honesty in sharing her personal journey to learning how much Jesus loves His children. The study was an inspiration to me.—Mary R.
Thank you, Sindy, for sharing your treasures with us. It was the best Bible study I have ever participated in. The timing couldn't have been any better.—Cindy B.