Watch the Book Trailer – Click here
Order your book today! – Click here.
Book Two in the Hearing God's Voice Series. This book will make the perfect addition to any Christ follower's personal library. Available on Amazon.com in paperback, kindle, or audio book.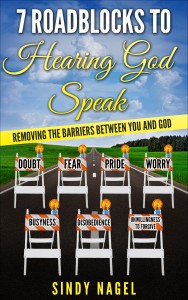 Paperback ISBN: 978-0-9969934-6-3
Kindle ISBN: 978-0-9969934-9-4
Audio Book ISBN: 978-0-9969934-2-5  Click here to order the Audio Book
God still speaks today! The God of the universe desires a spiritually intimate relationship with each of His children through two-way communication. You may be speaking to God, but are you listening to Him? Or does something stand in your way of hearing God speak?
The moment you accept Jesus Christ as your Savior, God sends His Holy Spirit to live in your heart and be the Lord of your life. We have the living God dwelling inside us, so why wouldn't we be able to hear His voice? Sindy identifies seven roadblocks to hearing God speak, and then, equips you to knock down the barriers that stand between you and God. Does one of these seven obstacles prevent you from enjoying daily two-way communication with your heavenly Father: doubt, fear, pride, worry, busyness, disobedience, or an unwillingness to forgive?
Each one of these roadblocks kept Sindy from hearing God speak for the first two decades of her life as a Christian. After identifying and annihilating these barriers, Sindy has cherished a sweeter, more intimate friendship with Jesus for the last fifteen years. In this book, she communicates messages from God's heart to yours, helping you recognize His voice within.
Understanding what keeps you from hearing God is the first step in the process. Doing something about it can be a little more challenging. This second book in the Hearing God's Voice Series will help you recognize and remove the obstacles that may hinder your communication with God.
7 Roadblocks to Hearing God Speak will enable you and prepare you to:
Discover the false beliefs that have kept you from listening to God and replace them with His amazing truths from Scripture.
Experience and enjoy a close, personal relationship with the Lord as you remove each of the obstacles that stand between you and Him.
Practice daily listening to God's still, small voice within you as He encourages you, guides you, communicates the depth of His love for you, and leads you down the path He designed just for you.