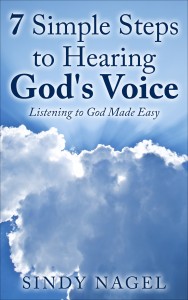 Order yours today! – Click here.
Watch the Book Trailer – Click here.
Available from Amazon in three formats:
"If you have accepted Jesus Christ as your Savior and Lord, God has already equipped you with everything you need to hear His voice."–Sindy Nagel
In this first book in the Hearing God's Voice Series, Sindy Nagel, the 7-Step Author, encourages you to make it your daily practice to listen to God's voice within. Our busy lives leave little opportunity to talk to God. Noise and distractions make it difficult to find a place of solitude. Many other roadblocks stand in the way of close relationship with the Lord. Your search for simplicity in hearing God's voice is over. Sindy shares seven easy steps to successfully hear and recognize the still, small voice of the Holy Spirit within. Follow her proven practices and cherish the deeper intimacy with Jesus that your soul desires.
Inside this book, you will discover answers to these questions:
Why would God speak to me?
How do I make time for God?
Where di I go to find solitude?
How do I record what He says to me?
How can I be sure it's God's voice I hear?
What are the benefits of hearing His voice?
Okay, I hear God speak. Now what do I do?
Whether you are a new believer or a seasoned Christ follower, the seven simple practices in this book will give you the encouragement and the methods you need to hear and recognize God's voice within you.
Also discover:
The mystery behind hearing God's voice
The roles of the Holy Spirit
7 roadblocks to hearing God speak
7 rewards of hearing God's voice
7 ways to start your time with God
7 self-reflective questions at the end of each chapter
How to discern God's voice from Satan's
Excerpts from Sindy's personal journal of two-way conversations with God
After following Jesus for twenty years, Sindy discovered the secret to hearing His voice. It changed her life forever! She doesn't want another soul to miss out on the awesome experience of enjoying two-way conversation with the God of the universe. God desires intimate relationship with all of His children through two-way communication. Now, after fifteen years of listening to God regularly, Sindy shares her proven process in 7 Simple Steps. She is excited about cheering people on the listening to God on a daily basis.
"Hearing God's voice is one of the keys to experiencing the abundant life Jesus Christ came to give us."–Sindy Nagel